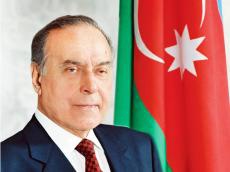 By Azernews 
Azerbaijan is planning to establish a "100th anniversary of Heydar Aliyev" jubilee medal, Azernews reports.
This issue was discussed at today's meeting of the Parliamentary Committee on Legal Policy and State Building.
In this regard, it is proposed to amend the law "On the establishment of orders and medals of the Republic of Azerbaijan" to establish a jubilee medal of the country.
To recap, on September 29, 2022, Azerbaijani President Ilham Aliyev declared 2023 a Year of Heydar Aliyev in the country.
The decision was made due to the national leader's 100th birth anniversary to be marked on May 10, 2023.