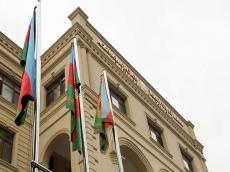 Azerbaijani Defense Ministry has released footage of military vehicles carrying personnel of Armenian armed forces units and illegal Armenian armed groups accompanied by the Russian peacekeeping contingent on the Khankandi-Khalfali-Turssu land road, Azernews reports per the ministry.
The video demonstrates that the military vehicles of the Armenian armed forces units and illegal Armenian armed groups on the mentioned route are accompanied by the ZTR-82A combat vehicle belonging to the Russian peacekeeping contingent and the security of the personnel brought to the combat position.
The ministry once again reiterated that the illegal smuggling of military cargo from Armenia to the Karabakh economic region of Azerbaijan should be stopped immediately and illegal Armenian armed groups should be disarmed and removed from the Azerbaijani territory as soon as possible.
Besides, the ministry called on the command of the Russian peacekeeping contingent to understand its responsibility in this process and fulfill its obligations without fail.
"Such illegal activities, which happen regularly, make it necessary to establish a border-crossing and control point of Azerbaijan at the last point of the Azerbaijan-Armenia border of Lachin road," the ministry noted.