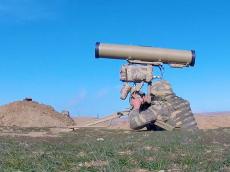 Training sessions for the section commanders, operators of the anti-tank guided missile (ATGM) complex as well as for servicemen of different types of troops of the Azerbaijani army were conducted, Azernews reports per the Defense Ministry.
The training sessions were held in accordance with the combat training plan for 2023.
The crews carried out maneuvers to position the complex for firing and marching, marking targets, aiming, and conducting fire.
The units received training on how to leave alert points of permanent deployment.
In order to evaluate the military personnel's knowledge and skills and to enhance their abilities, practical shooting tasks were successfully completed.
Units from the Land Forces, the Air Forces, the Naval Forces, and Missile and Artillery Troops completed various tasks during the training sessions held with a view to contemporary combat experience.
The main goals of the training sessions are to improve the troops' combat readiness so they can quickly neutralize potential threats and manage the units in a long-lasting, uninterrupted, and efficient manner.
To recap, in the period of the combat training plan for 2023, the main focus will be paid to increasing efficiency in the management of troops by making extensive use of advanced methods and high technologies, organizing interoperability between units, furthering the organization of interoperability between units, and maintaining a high level of combat readiness of the troops in accordance with the requirements assigned by President of Azerbaijan, Supreme Commander-in-Chief of the Armed Forces Ilham Aliyev.