Georgian President Mikhail Saakashvil and head of state Ilham Aliyev had telephone talk.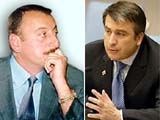 APA was informed from the President's Press Service. The heads of state expressed their satisfaction on the development of the bilateral relations which base on the principle of alliance in various spheres including political, economical between Azerbaijan and Georgia.
Ilham Aliyev and Mikhail Saakashvili stressed the importance of further developing the cooperation in the frame of the international organizations. Regional issues, various aspects of the bilateral relations and other issues of mutual interest were discussed in the talk.