Former Russian President Boris Yeltsin came to Azerbaijan on Thursday, an Interfax correspondent reported from the Baku Airport.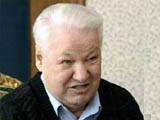 Yeltsin told the press that he had come to Azerbaijan at the invitation of Azerbaijani President Ilham Aliyev.
He said he would meet with Azerbaijani officials and tour the country during the four-day visit.
Meanwhile, the Azerbaijani non-governmental Organization for Karabakh Liberation protested against Yeltsin's visit to Baku.