Today in the International Press Center by the initiative of Presidential Office authority and opposition parties came together within the murder of Elmar Huseynov-editor in chief of "Monitor" magazine.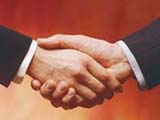 The meeting was held closely. In the meeting Ali Hasanov- chief of social-economical department of Presidential Office, Ali Ahmedov- executing secretary of New Azerbaijan Party, Etibar Mammadov-ex chairman of National Independence Party, Vurghun Eyyub- first deputy of Musavat Party chairman, ADP secretary Nuraddin Ismayilov, Gudrat Hasanguliyev-chairman of Whole Azerbaijan National Front Party, Fazil Gazanfaroghlu-chairman of Great Structure Party, Avaz Temirkhan- chairman of Executing Committee of Azerbaijan Liberal Party, representative of Citizen Solidarity Party Arif Ismayilov, Fuad Mustafayev-deputy of ANFP (r) chairman and Ilyas Ismayilov-chairman of Edalet (Justice) party took part. First deputy of general procurator Ramiz Rzayev and deputy of the Minister of Internal Affairs Zahid Dunyamaliyev stated that, the search of the criminals of E.Huseynov continued and that works on various versions are held.
A.Hasanov holding a briefing stated that, political parties gathered together to prevent the incident to be used for political intentions and called press representatives of both sides not to direct the happening to any direction, not to make definite attitudes until the results of investigation held by law enforcement bodies are completely announced.
He stated that, Azerbaijan government does everything possible to reveal the murder and especially that the position of President Ilham Aliyev approves it. It must be mentioned that, A.Hasanov in his speech stated that, the dialogue between apposition and authority had a constructive position and hoped these meetings to be the basis for future dialogues. /APA/