Yesterday President Ilham Aliyev has received Rashid Tusupbekov-Prosecutor-general of Kazakhstan (APA).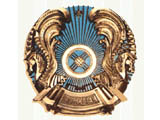 In accordance with the information of "Azertac", the head of the state is satisfied with the development of the relations in political, economic, humanitarian and other spheres between the two countries. I.Aliyev said that, friendly relations between national leader Haydar Aliyev and President of Khazakstan, Nursultan Nazarbayev had important role in establishing relations between our countries after Azerbaijan and Kazakhstan gained independence:"Existing friendly relations between the Presidents of Azerbaijan and Kazakhstan give impulse to development of the cooperation. "Stating of his official visit to Kazakhstan to have held successfully I.Aliyev said that, the signed documents were realized at that time.
The President also said that, Azerbaijan and Kazakhstan support each other in political processes happening in the region and in the wider territory, implementation of global economic projects, international matters. The head of the state highly appreciated the permanent support of Kazakhstan in matter of Armenia-Azerbaijan and Upper Garabagh conflict basing on international juridical principals. Ilham Aliyev noted that, the Procurator's organs have great role in strengthening the independence and ensuring the stability. He expressed his sureness that, cooperation between procurator's organs of our countries will develop permanently.
The Prosecutor-general said on his term that, President of Kazakhstan pays much attention to the relations with Azerbaijan. R.Tusupbekov also said of existence of public-political stability in Azerbaijan and Kazakhstan to give impulse to economic development of the countries./APA/