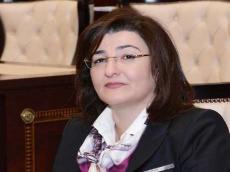 By Sara Rajabova
An Azerbaijani official has said the removal of international sanctions against Iran after the final settlement of issues related to Tehran's nuclear energy program will open up new opportunities for economic development for all countries in the region.
Sevinj Hasanova, Azerbaijan's deputy economy and industry minister, said at a meeting with representatives of the Russian mass media that this development will positively affect the entire region, RIA Novosti reported.
She considered that in this perspective, important economic opportunities may appear for all countries in the region. "We as neighboring countries should be interested in developing economic relations."
However, she did not comment on reports that Iran has already started talks with Azerbaijan on the possibility of joint gas supplies to Europe. She noted that such negotiations could take place between the gas companies of Iran and Azerbaijan and through the Energy Ministry.
Azerbaijan's transit role is increasing by the day in view of the expected lifting of international sanctions from the Islamic Republic.
The Islamic Republic, which holds one of the top places for its energy recourses, has been long eying to supply Europe with its hydrocarbon resources.
As the country doesn't possess a direct transit route and the necessary infrastructure to reach the European market, Azerbaijan, which has required infrastructure over the years, is the best transit country option in this regard.
Azerbaijan is also playing an important bridge role between Russia and Iran. Taking into account the intensification of economic relations between Moscow and Tehran, Baku is in the best position to link the two countries.
Hasanova stressed that now, after the start of the removal of sanctions on Iran, active work is underway on the creation of North-South transport corridor.
The North-South railway will connect Northern Europe to South-East Asia. It will serve as a bridge to connect the railways of Iran, Azerbaijan and Russia.
This project envisages the creation of a border railway bridge between Iranian and Azerbaijani Astara, as well as laying an 8-kilometer-long branch on Azerbaijani territory.
Hasanova further noted that the restoration of rail shipments on theNorth-South transit route is of special importance for Azerbaijan.
Noting that there is a weak link, she said the negotiations with Iran are underway regarding the construction of the missing link of the railway in Iran.
On October 10, a memorandum of understanding was signed at the Astara-Astara meeting commencing a project to unite the railroads of Azerbaijan to Iran in a bid to revive the North-South Corridor.
The document was signed in the presence of Iran's Minister of Information and Communications Technology Mahmoud Vaezi, and Azerbaijan's Minister of Economy and Industry Shahin Mustafayev, after two days of intense negotiations.