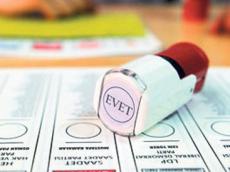 About 1,000 Turkish citizens living in Azerbaijan voted in Turkey's presidential election that took place on Sunday, the Turkish Embassy in Baku reported.
According to the Embassy, the polling stations were organized in Baku, Nakhchivan and Ganja.
838 Turkish citizens voted in Baku, 53 - in Nakhchivan, 56 - in Ganja.
Besides Azerbaijan, the voting on August 3 also took place in Albania, Bahrain, Bosnia and Herzegovina, Czech Republic, Finland, Georgia, Iran, Ireland, Spain, Kuwait, Egypt, Uzbekistan, Poland, Sudan, Tunisia, Ukraine, Oman, Jordan and New Zealand.
Turkish citizens, living in Russia, Canada, Australia, Germany, U.S., Belgium, the Netherlands, France, Israel, Italy, Lebanon, Romania, Saudi Arabia and Turkmenistan, voted in the presidential election on July 31.
The presidential election in Turkey has been scheduled for August 10, 2014. If none of the candidates gains 51 percent of votes in the first round, the second round will take place on August 24.
As distinct from the previous presidential election, the Turkish president will be elected by the people, not by the parliament as of 2014, according to the results of a referendum held in 2007.
Turkey's ruling Justice and Development Party nominated Prime Minister, Recep Tayyip Erdogan's candidacy for the presidential election.
Turkish oppositional Republican People's Party (CHP) nominated the former Secretary-General of the OIC Ekmeleddin Ihsanoglu as a candidate for the presidential elections on June 16.

/Trend/