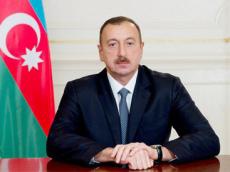 Azerbaijani President Ilham Aliyev has sent a congratulatory letter to the participants of the fourth Congress of the National Confederation of Azerbaijani Entrepreneurs.
Azerbaijani Minister of Economic Development Shahin Mustafayev read out the president's congratulatory letter.
"I greet and sincerely congratulate you on the beginning of the fourth Congress of the National Confederation of Azerbaijani Entrepreneurs (Employers)," the letter says. "The confederation, which was established in 1999 and united thousands of entrepreneurs, has been more developed recently and has taken a worthy place in the social life of the country."
Azerbaijan has determined the main principles, regulating the relations between the country and entrepreneurs today. The private sector share in the country's GDP has reached 83 percent, the head of state underscored in his message.
"Supporting entrepreneurship is one of the important areas of the country's socio-economic development strategy," the letter says. "The number of entrepreneurs is increasing rapidly, the competitive enterprises are being opened on the basis of the most advanced technologies, more investments are being made in the economy due to the reforms carried out in accordance with the current demands, the state programs and large-scale infrastructure projects, covering different areas, the consistent work in the field of sustainable improvement of the business and investment sphere, and state care of the private sector development. Azerbaijani businessmen have been successfully working in many countries worldwide, by establishing the mutually beneficial business relations. The society's progress constantly sets new challenges. The modern development tendencies further increase the responsibility of entrepreneurs, by requiring their readiness to respond to the current challenges. I am confident that decisions of the Congress will make a valuable contribution to the socio-economic development of the country. Once again I congratulate you and wish success in your activities."
/Trend/