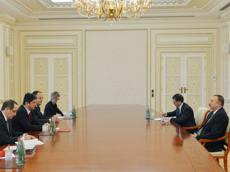 President of Azerbaijan Ilham Aliyev has today received a Romanian delegation led by Minister of Foreign Affairs Titus Corlatean.
The Head of State praised relationship between Azerbaijan and Romania, adding a firm legal basis exists for expansion of bilateral cooperation. The Azerbaijani leader stressed the importance of the document on strategic partnership signed between the two countries.
President Ilham Aliyev expressed hope that friendly and strategic partnership relations between "our countries and peoples will continue to strengthen".
The Head of State said he believed the Romanian Foreign Minister`s visit to Azerbaijan would create good opportunities for discussions of prospects for bilateral and regional cooperation.
Minister Corlatean extended greetings of Romanian President Traian Basescu and Prime Minister Victor Ponta to President Ilham Aliyev. The FM noted Romania was interested in expansion of bilateral cooperation with Azerbaijan on all fronts.
They exchanged views on how to expand Azerbaijan-Romania relations in economic and energy spheres as well as cooperation within the European Union.
The Azerbaijani leader asked the Romanian Foreign Minister to pass on his greetings to President Basescu and Prime Minister Ponta.

***
18:09
President of Azerbaijan Ilham Aliyev has today received Secretary General of the Organization of Islamic Cooperation (OIC) Ekmeleddin Ihsanoglu.
Mr. Ihsanoglu said he had eye-witnessed big development processes every time he visited Baku.
He described the holding of a conference of Labor Ministers of the OIC member countries in Baku as a good example of cooperation.
The Secretary General hailed Azerbaijan`s role in development of cooperation among the OIC member countries.
Touching upon rapid development processes in Azerbaijan, President Ilham Aliyev stressed the fact that the volume of investment made in Baku and the country`s other regions had grown in recent years.
The Head of State underlined the importance of the country`s achievements in the non-oil sector.
The President expressed confidence that the conference of Labor Ministers of the OIC member countries in Baku would contribute to expanding cooperation among the organization`s member countries.
They hailed development of cooperation between Azerbaijan and the OIC on all fronts.
They noted the significance of Azerbaijan`s active cooperation with all organizations under the OIC.
The Azerbaijani President and the OIC Secretary General also discussed the issue of expansion of the bilateral relations.
Azerbaijani President receives OIC Secretary General

/AzerTAc/