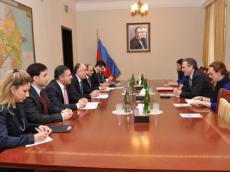 By AzerNews
Further deepening of UK-Azerbaijan relations was in focus at a meeting between Azerbaijan's Foreign Minister Elmar Mammadyarov and a UK delegation led by Simon Fraser, Permanent Under-Secretary of the Foreign and Commonwealth Office, held in Baku on Thursday.
Mammadyarov, voicing satisfaction with the current level of bilateral relations, cited the opportunities available to take political, economic and energy cooperation even further ahead.
He said a dynamically developing economy now allows Azerbaijan to invest in the UK economy and drew attention to the mutually beneficial cooperation in the energy sector.
Fraser, for his part, said the UK attaches great significance to its cooperation with Azerbaijan.
He also appraised the Azerbaijani investments in the UK economy and expressed his country's interest to see these investments grow in the future.
Fraser noted that the UK highly values Azerbaijan's contribution to restoring peace and stability in Afghanistan as well as its activities as a non-permanent member of the UN Security Council.
Furthermore, Mammadyarov informed the UK delegation about the Nagorno-Karabakh conflict between Armenia and Azerbaijan and the current state of the peace process.
He said the continuing occupation of the Azerbaijani territories by Armenian armed forces aims to further strengthen the current status-quo.
Mammadyarov stressed the need for a withdrawal of Armenian armed forces from the occupied territories, which would be the first step towards achieving a solution of the conflict.
The minister also commented on the recent statements of Armenian political and military circles over possible commissioning of the Khojaly airport in Nagorno-Karabakh. He said this would be a grave violation of Azerbaijani airspace and that Baku's just stance on the issue is in line and backed by relevant international legislation, particularly the Chicago Convention on Civil Aviation.
The UK delegation arrived in Azerbaijan on Thursday, after visiting Armenia and Georgia.
During the visit, Fraser also delivered a lecture on "High Diplomatic Service" at the Azerbaijan Diplomatic Academy (ADA), talking about UK foreign policy and priorities, including the diplomatic experience of his country, and answered questions of ADA students.
Commenting on human rights protection in Azerbaijan, Fraser said the UK government has always supported human rights and freedom of speech.
Azerbaijan and the UK have common interests and successfully continue their cooperation, whose level allows discussing such issues, he said.
Fraser noted that he was informed of the latest rally held in Baku, and said that the issue of human rights had been discussed during meetings with the country's leadership. According to him, this issue was not the only topic of discussion.
Fraser said that during the talks in Baku there was an opportunity to discuss the upcoming presidential elections, which will be held this year.
"The British government believes that the elections should be transparent, and freedom of speech guaranteed. The citizens must enjoy the right to peacefully protest. This is an important issue for all countries," the undersecretary said.