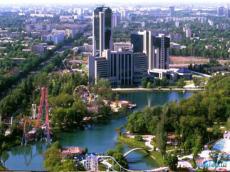 Foreign ministers of CIS countries will convene in Tashkent, Uzbekistan, on April 5 to discuss problems of politics, security, education, physical fitness, sports and tourism.
According to the CIS Executive Committee, they will consider cooperation documents for security, and the fight against illegal use of information technologies. The ministers will discuss an action plan for 2013-2015 for physical education and sports. The year 2014 is expected to be the Year of Tourism in the CIS.
The ministers will discuss the establishment of groups of specialists for rapid reaction at frontiers.
The foreign ministers will consider amendments for the regulations on the coordination council of tax authorities, develop a plan of multi-level consultations between their Foreign Ministries and discuss rules on consulate council.
CIS Council of Foreign Ministers is one of the highest bodies of the CIS, which is based on the decisions of the Council of heads of state, the Council of heads of government of the Commonwealth of coordinating foreign policy of states - members, including their activities in international organizations.
Decision of the Council of heads of state and heads of government is based on recommendations of the CFM.
The first session took place in August 1993.

/AzerTAc/