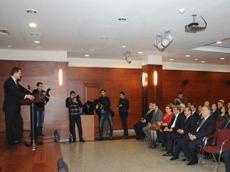 An event is underway at the Turkish Embassy in Azerbaijan in connection with the 21st anniversary of the Khojaly genocide on Friday.
The Nagorno-Karabakh conflict is the most important problem in the region, Turkish Ambassador to Azerbaijan Ismail Alper Coskun said.
"The resolution of the Nagorno-Karabakh problem is just as important for Turkey, as it is for Azerbaijan. It is a problem of the same importance as the Cyprus issue," he said.
According to Ismail Alper Coskun, the most brutal crime during the whole duration of the Nagorno-Karabakh conflict took place in Khojaly.
According to Ambassador, events dedicated to the Khojaly genocide are widely held in Turkey.
The event is attended by head of Azerbaijani Presidential Administration's Social and Political Department Ali Hasanov, MPs, and representatives of the Azerbaijani community.
/Trend/