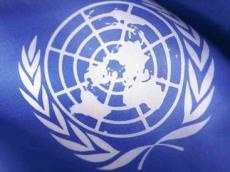 A meeting chaired by the Pakistani foreign minister involved the UN secretary general and high level representatives of several members of the Security Council.
Azerbaijan was represented at the event by Foreign Ministry`s envoy on special instructions Yashar Aliyev, according to the Azerbaijani Permanent Representation at the UN.
Addressing the meeting, Aliyev noted that Azerbaijan was repeatedly a target of terror attacks, and the activity of some international organizations based on the ideology of hatred and relying on state support is a treat to the national security of Azerbaijan and security of the South Caucasus in general.
The Azerbaijani official briefed on the position of the country in several aspects of combating terrorism and the work done in this direction. Referring to conflicts, Aliyev said that the lands occupied by foreign forces are a favorable area for terrorists and provide them good opportunity to reach their goals.
According to him, the accommodation of a mass amount of weapons and military hardware in these internationally uncontrolled lands poses a great threat to international and regional security.
In this regard, Aliyev underlined the necessity of acceleration of the solution of the conflict on the basis of international legal norms and principles, as well as sovereignty of states and territorial integrity.
Other UN member states not being part of the Security Council also had the opportunity to address the meeting.
In connection with this, some Armenian media spread information under title "Armenia casts wave of criticism against Azerbaijan at UN Security Council". According to the information with the reference to the Armenian Foreign Ministry, the Armenian permanent representative to UN has allegedly criticized Azerbaijan for its "hateful propaganda against Armenians", and allegedly noted that "the approximation of terrorism with self-determination in Nagorno-Karabakh is unacceptable" and that "the closure of the Turkish-Armenian border negatively affects the cooperation in combating terrorism".
However, according to the Azerbaijani Permanent Representation, the Armenian representative in his speech didn`t have any say about Azerbaijan and Turkey and even the Armenian community of Nagorno-Karabakh. The video from the conference posted on the official website of the UN and extracts from the Armenian`s representative`s speech prove it without any doubt.
/AzerTAc/