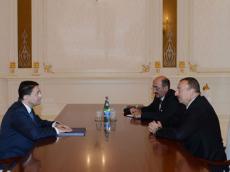 President of Azerbaijan Ilham Aliyev has received Secretary-General of the World Tourism Organization (UNWTO) Taleb Rifai.
The Azerbaijani President said considerable work had been done to develop tourism infrastructure in the capital Baku and the country`s regions.
President Ilham Aliyev expressed confidence Taleb Rifai`s visit would contribute to enhancing the cooperation between the country`s tourism authorities and UNWTO.
The UNWTO Secretary-General said he was happy to be in Azerbaijan for his third visit, adding each time he eye-witnesses great development processes in the country.
He praised Azerbaijan`s work to develop the tourism infrastructure. Taleb Rifai presented President Ilham Aliyev with the UNWTO Golden Book of quotations of heads of state, including those of the Azerbaijani leader.
The book emphasizes that Azerbaijan is one of the first 26 countries to sign the Golden Book campaign, and also praises Azerbaijan`s opportunities to develop tourism and hails President Ilham Aliyev`s attention to tourism sector.


*****18:00
President of Azerbaijan Ilham Aliyev has today received a Lithuanian delegation led by minister of internal affairs Arturas Melianas.
The Lithuanian Minister stressed the importance of the visit in terms of expanding the bilateral cooperation between relevant authorities.
He noted the significance of a cooperation agreement to be signed between Lithuania`s Ministry of Internal Affairs and Azerbaijan`s Internal and Emergency Situations Ministries.
President Ilham Aliyev said there were good prospects for expanding the Azerbaijan-Lithuania cooperation in different areas. The Head of State stressed the importance of coordination and reciprocal assistance during natural disasters. The President said Azerbaijan`s Emergency Situations Ministry had strong material and technical resources, including state-of-the-art equipment and infrastructure, noting the significance of carrying out experience exchange on this front.
President Ilham Aliyev receives UNWTO Secretary-General


President Ilham Aliyev receives Lithuanian Internal Minister
AzerTAc
/