The Georgian government has adopted a state strategy regarding the occupied territories entitled "Involvement through Cooperation."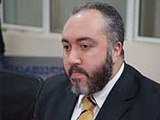 It is an all-inclusive document on Georgia's planned actions regarding the occupied territories, Temur Iakobashvili, State Minister for Reintegration Issues, has said after the governmental session.
According to him, Georgian citizens live on the occupied territories. Their fate should not be depended on occupants' good will.
The strategy is open to public and it will be presented to the international community. The first presentation is scheduled in the Council of Europe for Feb. 3.
The document will also be presented to the OSCE, the UN and the EU. It is also possible the document to be presented within the framework of Geneva consultations tomorrow, Temur Iakobashvili said.
According to him, the Georgian government has various mechanisms to present this document to the Ossetian and Abkhazian sides.
As for the funding of the strategy, Temur Iakobashvili says the state, donors and businessmen will allocate money.
The document says Georgia views peaceful methods as the only way for conflict solution.
Besides, the Georgian government has no illusions regarding the implementation of the strategic document, though work will start gradually, step by step, in order to solve all problems, being in the interests of the sides, Iakobashvili said.
/Georgian Times/