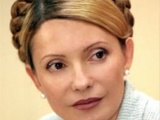 Ukrainian PM Yulia Tymoshenko has promised Georgian President to grant official status to Georgian monitors, who have been denied by Ukrainian Central Electoral Commission, witnesses the tape of the phone talk between Tymoshenko and Saakashvili, presented to RIA Novosti by Dmitry Vydrin, deputy Secretary of the National Security Council of Ukraine.
The tape recorded voices of a man and a woman, reminding voices of the Ukrainian PM and Georgian President. Both speak in Russian.
Tymoshenko's press secretary Marina Soroka refused to comment on that phone talk.
Saakashvili's press service also refrained from comments, and neither did confirm or refute the fact of the phone talk.
Previously the Central Electoral Commission of Ukraine refused to register international monitors from Georgia. It also declined a variant of compromise - cutting the delegation from 2,000 to 400 people.
The Bloc of Yulia Tymoshenko appealed to Kiev city court, and the latter called the CEC decision invalid.
/Georgia Times/