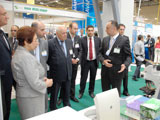 BIHE, Azerbaijan`s Annual International Healthcare Exhibition, the main event in the region`s healthcare calendar kicked off today, September 13, at Baku Expo Center. The high status of the exhibition is highlighted by the support of the Ministry of Health of Azerbaijan Republic, the Azerbaijan Stomatological Association, the National Confederation of Entrepreneurs` (Employers`) Organizations of Azerbaijan Republic and Azerbaijan Export and Investment Promotion Foundation (AZPROMO).
BIHE 2011 is attended by 124 companies from 19 countries, presenting a total of more than 100 well-established brands. The exhibition will demonstrate the latest developments of leading companies from countries including Azerbaijan, Germany, Latvia, Russia, Turkey and the Ukraine. Forty per cent of the exhibition space will be given over to the permanent participants at the exhibition which include Labservis (Azerbaijan), Akgun Software (Turkey) and Amico (Russia).
The 6th International Stomatology Exhibition, which showcases dental equipment, supplies and much more, has opened in parallel with BIHE. The exhibition will serve as a demonstration of innovations in the field of dentistry, including the German-manufactured 3D tomography machine.
Azerbaijan`s International Beauty and Aesthetic Medicine Exhibition, "Beauty Azerbaijan 2011", which celebrates its fifth anniversary this year, also started on 13 September over a greatly expanded exhibition space. Participants from Azerbaijan, Germany, Canada, China, Russia, Turkey and other countries will demonstrate professional cosmetics; body and hair care products; equipment for beauty salons; nail treatment products and much more during the exhibition. The exhibition will also showcase collagen cosmetics and express tooth whitening systems for the first time this year.
The partners of all exhibitions in 2011 are AZAL, Azerfon-Vodafone, Greenwich Travel Club, Caspel and Caucasus Point Hotel. The organizers of the exhibition are ITE Group PLC, a British company, and Iteca Caspian, its partner in the Caucasus. The exhibition will close on 15 September.
/AzerTAc/
Click to enlarge: