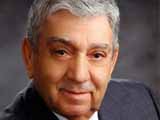 For the first time, Azerbaijan will present its own military capabilities in the international exhibition SOFEX 2010, which will be held May 10-13 in Jordan.
Azerbaijan will open its first pavilion at the prestigious international exhibition, Azerbaijani Ambassador to Jordan Elman Arasli said.
Azerbaijani delegation to be headed by Azerbaijani Defense Industry Minister Yaver Jamalov will visit Jordan to participate in the international exhibition. The delegation will include representatives of the country's Defense Ministry, Arasli said.
SOFEX is the second international exhibition and conference that features the largest fully-integrated Special Operations Forces equipment and solutions in the world.
Bringing together the world's leading counter terrorism and homeland security manufacturers with high-ranking defense officials and government decision makers, SOFEX is a unique global gathering for showcasing the latest counter terrorism and homeland security solutions to combat today's ever increasing security challenges.
SOFEX was founded in 1996 by His Majesty King Abdullah II. The 8th edition of the ever- growing SOFEX series will be held at the King Abdullah I Airbase in Amman in the Hashemite Kingdom of Jordan.
The SOFEX 2008 Conference "Adjusting Special Operations Forces' Capabilities to Combat Global Terrorism" attracted over 750 participants consisting of high ranking military and government delegations representing 58 countries.
The exhibitions is mainly focused on : equipment; ammunition and uniforms for special forces troops, rapid reaction and peacekeeping operations, military equipment, weapons, ammunition and personal protective equipment, communication and navigation systems, night vision systems, methods of training for Special Forces, field medicine and many another.
/
Trend
/