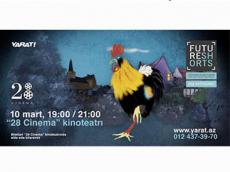 The authors and creators of Secret Cinema, the world's largest FUTURE SHORTS Film Festival, announces winter season 2013.
The world's largest film festival covers 90 countries, 325 cities and 45,000 audience.
Future Shorts is the product of 10 years of audience development, experimentation and of reacting to the demand for another way of experiencing film. Since 2003 Future shorts builts a new audience for film across the globe and developed a platform for filmmakers that allow millions of people worldwide to engage with their work.
Showcasing the most exciting short films and filmmakers from around the world in amazing venues, Future Shorts is continuing to build a massive screening network and powerful community - highlight screenings from the Autumn season include: Clockenflap Festival in Hong Kong, launching at the Fers Function House in Mongolia, Edge of Arabia in London, screenings at the British Library, the Technology centre in Taiwan, a collaboration with the London School of Economics are just a few examples. The Autumn Season was screened in 42 countries and over 135 cities. For the first time the Festival partnered up with PEN International and Malaria No More UK.
More than 25,000 attended the Autumn Season and voted for their favourite short film - Reto Caffi, director of "On the Line" (Auf der Strecke, 2007), received the Future Shorts Audience Award and a special prize.
From January to March 2013, the Winter Season 2013 will feature 7 of the best cutting-edge short films from all over the world.
A special highlight comes in the form of Sundance Grand Jury Prize winner "Fishing Without Nets" (Kenya, 2010), a fascinating story of pirates in Somalia told from the perspective of the Somalis.
Future Shorts further presents the colourful animation "Marcel, King of Tervuren" (USA, 2012), alongside with Woodstock Film Festival Jury Prize Winner "We're Leaving" (USA, 2011), the documentary - cum- horror film "The S from Hell" (USA, 2010), alongside the surreal coming-of-age short "Candy Girl" (UK, 2012) and the humorous love story "Lovebirds" (Czech Republic, 2010) that reflects similarities between avian and human life, accompanied by "Seeds of the Fall" (Sweden, 2009) from oscar nominated director Patrik Eklund.
About FUTURE CINEMA
FUTURE CINEMA, the creators of FUTURE SHORTS, SECRET CINEMA, SECRET SCREENINGS, THE OTHER CINEMA, SECRET RESTAURANT, SECRET SWIMMING and SECRET YOUTH create large-scale cinematic experiences, fusing feature film with music, theatre and live performance. Conceived in 2005, Future Cinema is famed for taking audiences on multi-sensory rides that have become genuine 'Don't Miss' events. Future Cinema also operates as an agency, bringing talent to creative projects and developing innovative experiential campaigns for brands, new releases and other third parties.

In Baku the screening will take place on March 10 in 28 Cinema Club (28 Shopping Mall)

Screening Time: 19:00 and 21:00

Tickets can be purchased from 28 Cinema Club box office.