The 7th international conference on telecommunications, computer technologies, IT and investments for Turkey, Caspian and Black Sea regions, Caspian Telecoms 2008 will be held in Istanbul on April 17-18.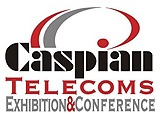 Day.Az reports with reference to the Turkish Ihlas news agency that Azerbaijan will be represented by Ilham Mardanov, chief of department of Strategic Planning and Scientific potential under the Ministry of Communication and Information Technologies.
It should be noted that the conference on telecommunications of the Caspian and Black Sea countries is a platform, where the ministers of communication and state telecommunication companies may propose their concept of modernization and privatization in the sphere of telecommunications and information technologies to international telecommunication companies and investors.
The event will involve delegations from Afghanistan, Armenia, Belarus, Bulgaria, Georgia, Greece, Iran, Kazakhstan, Kyrgyzstan, Moldova, Molgolia, Russia, Tajikistan, Turkmenistan, Ukraine and others.
/Day.Az/