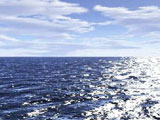 Turkmenistan has agreed to supply 10 billion cubic meters of gas per annum to the European Union via the Caspian Sea, EU External Relations Commissioner Benita Ferrero-Waldner told the Financial Times after the EU-Central Asian meeting on April 9-10.
She said it was "a very important first step forward", but noted it was not a "vast quantity".
As to the technical part of transferring the gas to Europe, Turkmenistan would have to weigh up options of either building a direct pipeline between off-shore installations in Turkmenistan and Azerbaijan, building a link connecting the two countries through Kazakhstan or compress the gas into liquid form and transfer it via tankers to Baku.
The Turkmen government's official website didn't give details and the amount agreed in the meeting.
The website reads that Turkmenistan and the EU signed a "memorandum on cooperation in the energy sphere", "Turkmenistan is interested in expanding export routes" and "concerned partners are invited to participate in large projects."
Experts insist that Turkmenistan's hesitation chiefly comes from the short-term view that Turkmen-Russian gas deal (envisions selling up to 80 billion cubic meters of gas to Russia per year) is more promising than a yet-unready project and Gazprom's promise to pay "European market price" to Central Asian gas.
The US and EU support the idea of taking Turkmen and Kazakh gas via the Trans-Caspian submarine pipeline [Tengiz-Turkmenbashy-Baku (Kazakhstan-Turkmenistan-Azerbaijan)] route] to Turkey through the South Caucasus Pipeline (Baku-Tbilisi-Erzurum pipeline), and onward to Europe via Nabucco Pipeline.
The Nabucco Gas Pipeline is a 3,300-kilometre (2,050-mile) project that will transport the Caspian gas from Turkey to Austria via Bulgaria, Romania, and Hungary.
The pipeline consortium - Nabucco Gas Pipeline International Ltd. is equally owned (16.67% each) by Austria's OMV, Hungary's MOL, Turkey's Botas, Bulgaria's Bulgargaz and Romania's Transgaz and Germany's RWE.
Five-billion-euro (7.4-billion-dollar) pipeline to feed 31 billion cubic meters of gas each year from the Middle East to Europe from 2012 at the earliest. It is likely to deliver the first gas to Europe in 2013.
/APA/