By the end of 2006 ROSTIK'S-KFC had in its portfolio 118 outlets, 87 of which are managed by independent franchisees. 67 quick service restaurants are located in Moscow and Moscow Area.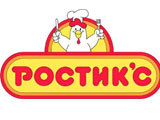 During 2006 the company generated revenue of more than $100 mln. with 15 % market share among other QSR networks in Moscow and Moscow region.
25 outlets were opened in 2006 (9 in Moscow, 16 in the regions), 20 of them – under franchise.
Chain Rostik's-KFC has its outlets in Moscow, Saint-Petersburg, Tver, Kaluga, Novosibirsk, Omsk, Yekaterinburg, Kazan, Surgut, Nizhny Novgorod, Samara, Perm, and Alma-Ata. New restaurants ROSTIK'S-KFC were opened in Tver, Serpuhov, Tyumen and Krasnodar in 2006.
2006 became the stage of active promotion of the chain's new name and image. During 2006, 47 outlets have been re-branded and opened under new brand name. TWISTER ™ TV ad campaign – the most popular product of the joined network – was launched in autumn.
Henrik Winther, ROSTIK'S-KFC CEO: "Re-branding has become the most significant event of the year for our guests. Changes in the menu, company's design, technology, and recipes have been made. The first ROSTIK'S-KFC outlet was opened on Mayakovsky Sq. on the 4th of April 2006. As a result of the co-brand alliance new concept was created, that combined all of the best in ROSTIK'S and KFC brands. This combination will become a foundation for opening of more than 60 ROSTIK'S-KFC outlets in 2007.
In 2007 ROSTIK'S-KFC plans to open 60 enterprises, 35 of which – under franchise. Thus, by the end of 2007 total count of quick service restaurants will reach 178. Expected revenue growth – 29%. Active strengthening of company position in the cities where it already has its outlets will continue. 2007 will be the year of aggressive expansion of ROSTIK'S-KFC in new cities of the Russian Federation: Rostov-na-Donu, Krasnodar, Naberezhnye Chelny, Cheboksary, Volgograd, Izhevsk, Tomsk, Irkutsk. New outlets will appear in Azerbaijan, Moldova and Armenia. Investments in development will amount to more than $10 mln. RNWire