"The sharp cooling of the Russian-Azeri relations in late 2006 formally began with outer reasons.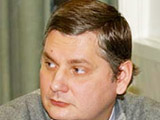 "First, Moscow requested Baku to suspend gas delivery to Georgia. When Baku refused to form an anti-Georgian alliance Gazprom raised the gas prices not for Georgia but also for Azerbaijan," head of the department of international relations at the institute of political and military studies Sergey Markedonov said.
He reminded that Azerbaijan had to pay $235 instead of $110 for thousand cu m of gas. "For its part Azerbaijani President Ilham Aliyev said that such price "discords with the spirit and essence of the Russian-Azeri relations."
Moreover, Aliyev did not rule out that "oil and gas relations between Moscow and Baku maintain a political implication." The result was that the Azeri authorities and Gazprom did not sign an agreement on delivery of Russian gas to Azerbaijan in 2007. The story was continued. February 7, in Tbilisi, top leaders of Georgia, Azerbaijan and Turkey held a regional summit, which resulted in signing of agreement on construction of a strategically important Baku-Tbilisi-Akhalkalaki-Kars railroad. Some experts began speaking of a railway variant of Baku-Ceyhan. It's worth mentioning that the project is supposed to be completed by 2009 without Russia's participation and in bypass of Armenia. In general, such a development was expected but only the event of February 7, 2007 showed that the project will be launched in bypass of Armenia. The project tightened the Tbilisi-Baku economic knot. Moreover, Azerbaijan did a little 'service' to Georgia in the form of a $200 million credit, said Markedonov.
/PanARMENIAN.Net/