Rodents are destroying grain fields in Jalilabad.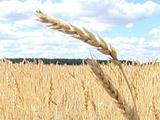 Farmers told APA bureau rodents spread in over eight hectares of acreage and they have no proper pesticide to kill vermin.
Jalilabad Plants Protection Center Chief confirmed the fact, saying Agriculture Ministry delivered 130kg chemical killers against rats while it is not enough. He said farmers use too dangerous homemade chemical killers which are harmful to livings.