Azerfarm LLC will export medications to Uzbekistan.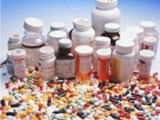 The country's experts got acquainted with working conditions of Azerfarm. In the first stage Azerfarm will export six kinds of medicines to Uzbekistan. The medicines will be registered in Uzbekistan within two months. The medicines will be exported after the registration.
Azerfarm is at present sells medicines to Kazakhstan and Turkmenistan.
Turkmenistan imports 1, Kazakhstan 6 kinds of medicines respectively.
The company does not consider medicine export to Russia and Ukraine efficient, as a lot of documents are required in these countries and registration is very expensive. It requires $20,000-30,000 to be registered in Russia, while the registration in Uzbekistan, Kazakhstan and Turkmenistan is $3,500.
Azerfarm is the only local pharmaceutical enterprise in Azerbaijan that exports its medications to foreign market.
The other enterprise producing medicines in Azerbaijan is Azersintez Joint Venture. It is Azerbaijan-Turkey joint enterprise and does not export its products yet. APA