State Veterinary Service under Agriculture Ministry taking into account bird flu virus in Turkey, temporarily limited the import of fowls, feed and goods under veterinary control from this country.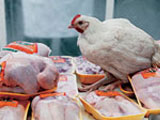 State Veterinary Service warns that poultries should be kept in close conditions. Hunting, sale and use of migrant and wild birds is strictly banned.
SVS notes that local state veterinary departments should be informed of death of birds and poultries in time, APA reports.
The Service established Hotline; the phone number is 563-41-57.