Minister for Science and Technology Chaudhry Nouraiz Shakoor on Wednesday stressed the need to start exchange of delegations of experts, researchers and scientists between Pakistan and Azerbaijan to further enhance mutual cooperation.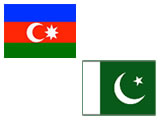 He was talking to the visiting Deputy Prime Minister of Azerbaijan Yagub Eyyubov who called on him here today to discuss matters pertaining to cooperation in science and technology.
He said that Pakistan attaches great importance to its relations with Azerbaijan and wants to enhance it in the field of science and technology with a view to strengthen relations.
The minister said that practical steps are needed to enhance cooperation between the two countries in identified areas.
He apprised him about the projects being run by the ministry for the development of science and technology sector in the country.
Deputy Prime Minister Azerbaijan said that his present visit to Pakistan is aimed at exploring prospects and possibilities of enhancing cooperation between the two countries.
He said that people of both countries are bonded together by a common faith, brotherhood, culture and history. He said both countries are enjoying good cordial relations which will further strengthen in time to come. APP