Rabitabank's assets grow 37% to AZN 44,337,000 in January, 2007.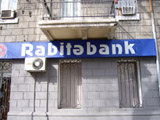 Bank's head office told the APA that its credit portfolio expanded to AZN 29,938,000, up 37% from a year earlier.
Deposit portfolio went up 7% to AZN 32,195,000, and current deposits climbed 10.37% to AZN 10,389,000 and term deposits more than doubled to AZN 21,806,000.
The Bank earned a net profit of AZN 744,000. Its revenue was AZN 5,381,000 and expenditures AZN 4,323,000.
Rabitabank has 12 branches, including four in Baku and eight in regions.
In 2006 the European Bank for Reconstruction and Development and Rabitabank concluded two agreements on opening of a USD 3m and a US $1m credit lines.