Kazakhstan's national oil company said Wednesday it had signed a memorandum of understanding with several international companies outlining a new export route for Kazakh oil, using tankers to transport the oil across the Caspian Sea.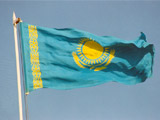 Kazakhstan is expected to become one of the world's top energy producers in coming years. However, the vast, Central Asian country is landlocked and depends on Russian pipelines to deliver oil and gas to world markets.
KazMunaiGaz said in a statement that the deal foresees using the planned-Eskene-Kuryk pipeline to carry oil to a terminal on the Caspian coast. There, tankers would take the crude to Azerbaijan for pumping into the Baku-Tbilisi-Ceyhan pipeline, which now carries Azerbaijani oil to a port on Turkey's Mediterranean coast.
The route's initial capacity will be 25 million tons a year, which will later increase to 38 million, KazMunaiGaz said.
The new Kazakh Caspian Transport System, or KCTS, project, worth an estimated $3 billion (?2.3 billion) is expected to be launched with the start of production at the giant Kashagan field in the northern Caspian in 2010-2011, KazMunaiGaz said.
The memorandum is the first step in setting up the KCTS for oil, which will further diversify hydrocarbon export sources," KazMunaiGaz President Uzakbai Karabalin said.
Some experts, however, have warned that there are not enough tankers to meet Kazakhstan's production and say building a pipeline under the Caspian is the only viable way to ensure Kazakh oil and gas reaches international markets.
Also signing the memorandum were the Chevron Corp.-led consortium Tengizchevroil, which is developing the massive Tengiz field, and the Eni SpA-led consortium Agip KCO, which is developing the Kashagan field. The Associated Press
/The International Herald Tribune/