Construction of an oil refinery and necessary infrastructure requires investment of US$5 billion, the SOCAR President Rovnag Abdullayev said.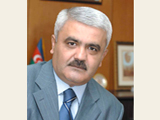 "Azerbaijan will own 80% of oil production in Azeri-Chirag-Guneshli field in 2009. The throughout capacity of the BTC is 50m tons, of which 40m tons will belong to Azerbaijan. So, we plan to build an oil refinery in the Ceyhan to process Azeri oil," he said, the APA reports.
In early December, 2006 the President of the State Oil Company of Azerbaijan (SOCAR), Rovnag Abdullayev, and the Chairman of the Management Board of Turkey's Turcas, Erdal Aksoy, signed an agreement on establishment of SOCAR & Turcas Energy Joint Venture to ensure investment-making in oil processing in Ceyhan Port, gas import and wholesale selling of gas and Turcas's participation in the exploration activities on the Caspian.
The SOCAR President said that oil output peaked in Azerbaijan during the last ten months.
"Oil production will hit 60m tonnes by 2010. The SOCAR affords to make investment in oil sector of any country. Turkey is the third one," he said.
Erdal Aksoy said that SOCAR & Turcas Energy JV will be engaged in implementation of the project on establishment of an Oil Refinery in the Ceyhan Port at an annual capacity of 10m-20m tons, and marketing of transportation of Shah Deniz gas to Turkey and Europe.
"We plan to build a refinery worth US$1 billion within 4 or 5 years. We will expand its capacity from 10 million tonnes to 20m later," Aksoy said.