"Although the EU called Baku-Tbilisi-Kars railroad a political project, many European States show great interest in this project," said TRACECA Azerbaijan National Secretariat Chief Akif Mustafayev.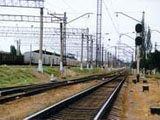 He told the APA that Kazakhstan and China were interested in the railroad, but hesitate to join now.
"This railway will be one of the arms of TRACECA in 2009. Armenia will remain uninvolved in this project unless it frees Azeri lands," he said.
He added some 5 million tons of goods will be transported through the railroad at the first stage while the capacity will be expanded to 10m to 15m tons later.
Azerbaijan allocated a loan of $220 million to Georgia for financing of Georgian part of the railway line. The cost of the project is $420m.