State Oil Company of Azerbaijan (SOCAR) imported 470.1m cubic meters of Russian gas to fuel power stations in December, 2006.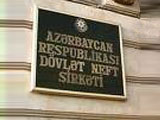 The SOCAR told APA that Azerbaijan purchased a total of 4.4803 billion cubic meters of natural gas at the price of $110 per 1,000 cu m.
Totally Azerbaijan has to date imported 25.7453 billion cubic meters of gas from Russia.
Azerbaijan refused to renew the gas deal with Russia for 2007 as Russia insisted on the price of $235 per cubic meter.