A mission of the Asian Development Bank is on the visit to Azerbaijan to discuss the East-West transport project.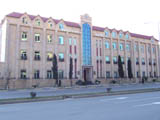 "They hold negotiations with the Azerbaijani Transport Ministry. During the negotiations the sides discuss opportunity of financing of the $52 millions part of the project," the Baku representation of the Bank noted.
The Azerbaijani Cabinet of Ministers stressed that the negotiations concern financing of the sections Yevlakh-Ganja and Gazakh- Georgian border. All main issues on the projects have been solved. The total value of the project is expected to be approximately $52 millions, which will be regulated by the single credit agreement.
The total length of the highway comprises 520 km, the total value - approximately $300 millions. The section of the highway Baku-Alat was reconstructed at expense of the $16 millions of the state fund in 2001, the work on the Alat-Hajigabul section was also completed at expense of the Islam Development Bank and the Kuwait Fund allocated $36 millions, the work on the Hajigabul-Kurdamir section started from May 2005 at expense of the European Bank of Reconstruction and Development in the amount of $40 millions. The Kurdamir-Georgian border section will be financed at expense of the Islam Development Bank and Kuwait Fund.
Trend