Bilateral agreement on joining of Azerbaijan post network to above indicated system of money orders is to be signed between the state enterprise "Azerpochta" and system of International money orders Western Union in the second half of 2005.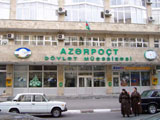 The agency Trend reports, the post department of the Ministry of communication and information technologies informed corresponding works are conducted in this direction.
"After introduction of this system in post network, realization of money orders from any part of the world during 15-20 minutes will be possible" reports of the Ministry of communication and information technologies.  
Signing of similar agreements in indicated direction is planned next year.
Ministry also informed, in the beginning money operations by means of  system "Western Union" are to be planned realizing in the capital of the  state, and then in the regions of Azerbaijan.
Besides, this year Azerbaijan may realize post money orders of system EUROGIRO by means of other system of money orders MTF/STEFI.
Electronically, money orders in Azerbaijan have being conducted in the state since 2002.