During the first quarter of 2005 the Azerbaijan International Operating Company (AIOC), which involved in the development of the Azeri-Chirag- Gunashli (ACG) contract area, exported 1,851 million tons of oil, or 334,000 tons more than 2004.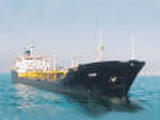 AIOC told Trend in January to March 1,715 million tons of oil (12,702 million barrels) was transported via the Baku-Supsa pipeline (the western route), and 136,000 tons (1,004 million barrels) via the Baku-Novorossiysk route.
In March 2005 the AIOC pumped 676,000 tons of oil. AIOC announced that 590,000 tons (4,367 million barrels) of the total was pumped via the Western route, while 86,000 tons (663,000 barrels) via the northern route.
In January to March 2005 the SOCAR exported 656,672 tons of oil from Novorossiysk port. In March 458,14 tons of crude was shipped from the port. In 2004 oil export from Azerbaijan made up 8,937 million tons, or 243,000 tons more than 2003.