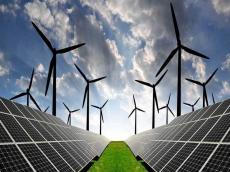 By Azernews
By Sara Israfilbayova
Today, the share of renewable (alternative) energy sources in the electricity supply of Azerbaijan is 9.5 percent.
Deputy Chairman of the Azerbaijan State Agency on Alternative and Renewable Energy Sources Jamil Melikov said at the Azerbaijan-Italy roundtable "Energy and Clean Technologies" in Baku, adding that it is mainly about water power plants.
Melikov noted that the "Strategic Roadmap for the Future of the National Economy" envisages the creation of alternative sources for the production of 302 megawatts of solar energy, 50 megawatts of wind energy and 20 megawatts of bioenergy.
Companies investing in this sphere will be exempted from paying taxes and customs duties for 7 years.
For many millions of years, the planet in its bowels has accumulated a myriad of coal, hydrocarbons in the form of oil and natural gas. Mankind has learned to use this wealth for its purposes as sources of energy for the development of civilization.
According to the most optimistic forecasts, by the middle of this century, we will reach a point where half of the world's oil reserves will be pumped out.
Humanity needs to switch to other sources of electricity production, not dependent on hydrocarbons. In other words, in the coming decades, it is necessary to actively seek out and use alternative sources of energy.
Traditional sources transform into electric kinetic energy moving water - HPS and thermal energy of fuel - TPS, operating on oil, natural gas and coal. An alternative source of energy replaces traditional sources.
These are the energy of water movement in the oceans and seas, wind, solar radiation, biomass, atom decay, etc. Wind energy is most often used in countries of Western Europe, the U.S., India, and China.
For example, Denmark receives 25 percent of energy as a result of using wind. Solar power stations operate in more than 80 countries.
So, the largest wind farm at the moment is located in the state of California (the U.S.), the total capacity of which is 1550 MW. An interesting fact is that over $100 billion have been invested in the world in 2008 in winds, sun and bioenergy.
The idea of ??hydrogen energy, the production of electricity in photovoltaic cells located in near-earth orbit or on the Moon is being studied. Electricity will be transmitted to the Earth in the form of microwave radiation.
Of the listed ways of obtaining alternative energy in Azerbaijan, solar and wind energy have started to develop.
Under the leadership of the President of Azerbaijan Ilham Aliyev, the state program for the development of this type of energy until 2020 is being successfully implemented.
The coastal zone of the Caspian Sea, the mountainous terrain allow to build several wind farms in the country. There is a wind farm with a capacity of 50 MW in Khizi.