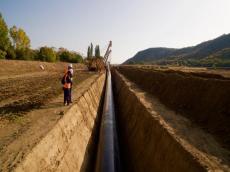 By  Trend
The consortium for construction of the Trans Adriatic Pipeline (TAP), which envisages transportation of Azerbaijani gas to Europe, will continue to work closely with the Italian government, Lisa Givert, TAP Head of Communications, told Trend June 8.
"TAP will continue to work closely with the Italian government and relevant ministries and authorities to share contents, benefits and values of the project for Italian citizens and businesses, in terms of employment, revenues and reduction of natural gas prices," she said.
Earlier Reuters reported that Italian Environment Minister Sergio Costa said Italy's involvement in the TAP would be reviewed along with some other major projects.
Talking about TAP's benefits for Italy, Givert noted that TAP will bring natural gas, a sustainable energy commodity to contribute to the ongoing decarbonization process in Italy and a reliable ally for energy efficiency and renewables, as it provides necessary flexibility to manage the country's energy needs.
Earlier, TAP consortium told Trend that around 90 percent of natural gas consumption in Italy comes from imports.
"Gas consumption in Italy in reached 70.9 billion cubic meters in 2016. The first half of 2017 has already recorded a 17.3 percent increase in the country's gas consumption compared to the same period in 2016 and it will continue to grow," said the consortium.
Moreover, Italy's gas supply contracts with Algeria, the Netherlands and Russia will expire by 2020 and therefore, delivery of gas via TAP to Italy will be timely, according to TAP AG.
"Adding a new source and a new route to the existing ones (Russia, Algeria, Libya, the Netherlands and Norway) would significantly strengthen the security of supplies and further diversify the sources of supply. It can also increase competition between sources and reduce logistics costs," said TAP.
TAP worth 4.5 billion euros is a part of the Southern Gas Corridor, which is one of the priority energy projects for the European Union. The project envisages transportation of gas from Azerbaijan's Shah Deniz Stage 2 to the EU countries.
The pipeline will connect to the Trans Anatolian Natural Gas Pipeline (TANAP) on the Turkish-Greek border, run through Greece, Albania and the Adriatic Sea, before coming ashore in Italy's south.
TAP will be 878 kilometers in length (Greece 550 kilometers, Albania 215 kilometers, Adriatic Sea 105 kilometers, and Italy 8 kilometers).
TAP's shareholding is comprised of BP (20 percent), SOCAR (20 percent), Snam S.p.A. (20 percent), Fluxys (19 percent), Enagás (16 percent) and Axpo (5 percent).