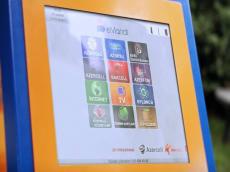 By  Trend
The eManat payment terminals of Modenis LLC in Azerbaijan will return the change, the company told Trend May 18.
The company said the funds will be returned not in the form of bills and coins, but in the form of a special 10-digit promotional code.
"For example, you pay for a service and 0.80 manats should be returned to you. This amount can be received in the form of a promotional code to be used in the eManat terminals for payment of fees for other services. A corresponding section will be available on the terminals by clicking on which it will be possible to make payment using the promotional codes. At the initial stage, it will be possible to obtain a promotional code in the payments of fees for state and insurance services, and other services will be added later. Payments through the promotional codes will be offered to users of eManat this summer," the company stated.
Currently, the total number of eManat terminals reaches 2,200. Over 160 payment services are provided in the terminal network.
The eManat terminals are designed for paying for utilities, fixed and mobile telephony services, internet, cable TV, to receive payments on bank loans and others. They are installed in public places (business centers, waiting rooms, railway stations and airports, shopping centers and supermarkets).
Currently, the payment terminals market of Azerbaijan also includes e-GovPay, MilliON, ExpressPay, ASAN Odenish, Easypay, Pulpay devices and payment terminals of the International Bank of Azerbaijan.