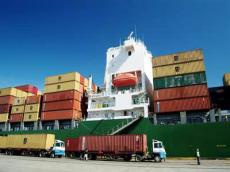 By Azernews
By Sara Israfilbayova
Azerbaijan will open its wine house in Shanghai before the end of this year.
President of the Azerbaijan Export and Investment Promotion Foundation (AZPROMO) Rufat Mammadov told reporters that technical issues remain to be solved.
"On May 16, negotiations continued with the Shanghai Free Trade Zone, where the opening of the wine house is expected," he said. "Many things don't depend on us. Procedures and legislative process are of great importance there."
Azerbaijani entrepreneurs have been exporting vodka to China since this year. Deliveries were established on the basis of agreements reached within the framework of three expert missions organized by AZPROMO in the past. This year, along with expert missions, Azerbaijani companies will also participate in exhibitions in China.
China is a huge opportunity and a priority market for Azerbaijan. More than 50 agreements were signed between the two countries so far.
Trade and economic contacts occupy a significant place in bilateral relations between China and Azerbaijan. The process of interaction between the two countries was marked by constant tendencies of expansion and strengthening of cooperation.
Today, China takes the 4th place in the overall trade turnover of Azerbaijan, and 3rd place - in exports and imports.
Trade between China and Azerbaijan in 2017 increased by 43 percent to $1.2 billion. The export of Azerbaijani products to China increased by 2.1 times.
Export mission
Mammadov went on to say that until the end of this month, Azerbaijan will send an export mission to Astrakhan.
"In general, this year we plan to organize export missions, both on traditional for us and in new markets. They will cover, in particular, the countries of the Middle East, East Asia, as well as the European direction," he said.
Further, AZPROMO president stressed that this year it is planned to participate with a single national stand at six major international exhibitions.
In January 2018, President Ilham Aliyev signed a decree on amending the procedure for determining and regulating the payment mechanism for part of the expenses paid for at the expense of the state budget for organizing export missions to foreign countries, studying foreign markets and marketing activities, promoting the brand "Made in Azerbaijan" to foreign markets, the receipt by local companies of certificates and patents in foreign countries in connection with exports, research programs and export development projects.
In accordance with the decree, the number of export missions has been increased from 10 to 25. The number of international fairs and exhibitions where Azerbaijani entrepreneurs can take part in one calendar year as a single stand has been increased from five to 10.
Entrepreneurs who take part in international exhibitions and fairs on an individual basis will be able to receive financial support in the amount of 50 percent of all expenses necessary for participation, including renting and building a stand, transportation costs and others. The maximum amount of such support should not exceed 10,000 manats ($5,880). Until today, only 30 percent of expenses for an amount not exceeding 5,000 manats ($2,900) were covered.
At the same time, annually exporters from 1 February within 60 days will be able to apply for support for obtaining an international certificate.
The cost of support should not exceed 60,000 manats ($35,200) and make up no more than 50 percent of the total expenditure.