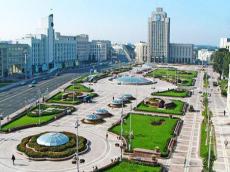 By Azernews
By Rashid Shirinov
IT companies of Azerbaijan and Belarus have discussed prospects of cooperation in telecommunications and information technologies, a source in Azerbaijan's telecommunications market told Trend on May 16.
The companies met in Minsk within the fourth Belarusian-Azerbaijani business forum in the field of high technologies and telecommunications, which was held within the 25th International Forum on Information and Communication Technologies TIBO-2018 ongoing in the Belarusian capital.
The delegation of Azerbaijan is headed by Rashad Azizov, Director of the Department of science, technology and information society development of the Azerbaijani Ministry of Transport, Communications and High Technologies.
Azerbaijan's achievements in the field of ICT are presented at the TIBO-2018. The visitors of the country's pavilion can get acquainted with such projects as the construction of a regional innovation zone, as well as with the achievements in the field of space industry, the "e-Government" project, etc. Belarusian Minister of Communications and Informatization Sergey Popkov has already visited the Azerbaijani pavilion.
The TIBO forum is annually held in Belarus. It is a platform for the exchange of new achievements and best practices in the IT field. The exhibition includes a number of thematic areas, such as "National Information Infrastructure," "Digital Economy," "Mobile Technologies," "E-government," "Robotics," etc.
Over 100 exhibitors from more than 20 countries are taking part in the exhibition, which will continue until May 18.
Information and Communication Technology is considered to be one of the crucial spheres for the further development of Azerbaijani economy and an integral part of the economic and political reforms which are currently implemented in the country. This sector has intensively developed in Azerbaijan over the past years. Creation and development of the e-Government system, expansion of the broadband internet services, launching of the telecommunication and low-orbit satellites, and many other steps are the evidence of Azerbaijan's success in this sphere.
Azerbaijan, which is a regional leader in the ICT sector, intends to expand its international cooperation to further develop the sector. The income obtained in the sector in Azerbaijan is projected to hit $9 billion by 2020.