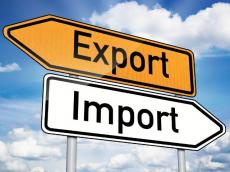 By Azernews
By Sara Israfilbayova
Legal entities and individuals of Azerbaijan in January-February carried out trade operations with partners in 140 countries, products exported to 86 countries and imported from 131 countries.
The State Statistics Committee of Azerbaijan reported that the foreign trade turnover in January-February 2018 amounted to $4.4 billion, including the export value of $2.99 billion, the import value-$ 1.4 billion, resulting in a positive trade surplus of $1.5 billion.
Foreign trade turnover increased by 31.3 percent, exports by 5.5 percent and imports by 6.6 percent, as compared to January-February of the previous year.
About 26.5 percent of exports were to Italy and 2.3 percent - to Ukraine. At the same time, 16.8 percent of the total value of imported products fell to Russia and 2.2 percent to Kazakhstan.
Earlier, the State Customs Committee of Azerbaijan reported that for 2017 Azerbaijan's foreign trade turnover amounted to $22.59 billion. At the same time, exports for the year totaled $13.81 billion, import -$ 8.78 billion.
For the year of 2017 the foreign trade turnover of Azerbaijan grew by 27.8 percent, export - by 51.1 percent, import - by 2.9 percent.
Azerbaijan carried out import operations mainly with Russia (17.7 percent), Turkey (14.5 percent), China (9.73 percent), the U.S. (8.21 percent), Ukraine (5.24 percent), and Germany (5.05 percent).
The main export operations were carried out with Italy (31.9 percent of total exports), Turkey (9.89 percent), Israel (4.63 percent), Russia (4.25 percent), Czech Republic (4.03 percent), Canada (3.87 percent), Georgia (3.41percent).