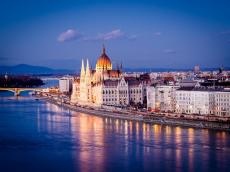 By Azernews
Azerbaijan plans to appoint its next trade representative to Hungary, a landlocked country in central Europe.
The trade representative will work to expand Azerbaijan's non-oil exports, promote the 'Made in Azerbaijan' brand in Europe and attract investment into the country. So far, Azerbaijan has appointed trade representatives to Russia, China and the United Arab Emirates (UAE).
Economy Minister Shahin Mustafayev said that Azerbaijan is also considering other mechanisms to expand bilateral trade with Hungary, Azertac reported
The trade turnover between Azerbaijan and Hungary amounted to $ 20.12 million in January-July 2017, according to the State Customs Committee of Azerbaijan.
The 7th meeting of Azerbaijan-Hungary Joint Commission on Economic Cooperation will take place in Budapest.
In October, Budapest will also welcome the export mission of Azerbaijan's entrepreneurs. Entrepreneurs involved in the export mission are specialized in the production of fruits and vegetables, mineral water, fruit juices, sugar and confectionery products, wine and other alcohol products, honey and products from it, tea, hazelnuts and other industrial products.
Since early 2017, Azerbaijan has already sent export missions to Qatar, Kazakhstan, Germany, Afghanistan and Pakistan.
The export missions play an important role in expanding non-oil exports and promoting the "Made in Azerbaijan" brand.
As of today, 92 trademarks of Azerbaijan are protected under the 'Made in Azerbaijan' brand, while the country's total outputs nears  250 kinds of products in food, light, heavy and construction industries. The brand is highly successful in regional and world markets, and Azerbaijan's local output meets all the necessary standards.
In January 2017, President Ilham Aliyev signed a decree "About appointment of trade representatives in embassies and consulates of the Republic".
Under the decree, the country's economy minister appoints trade representatives in the Azerbaijani embassies and consulates abroad to facilitate business ties and increase the effectiveness of export promotion measures, represent and fully protect the trade and economic interests of the country and expand the delivery of Azerbaijani products to foreign markets.
Trade representatives' main mission is to take measures to expand Azerbaijan`s economic and trade relations with foreign countries, protect economic interests of Azerbaijan, increase export of Azerbaijani goods and services, promote Azerbaijan's business environment and investment opportunities.
Moreover, Azerbaijan opens Trade Houses in foreign countries. Azerbaijan's first Trade House was opened in the Belarusian capital Minsk and the second one maybe opened in Russia's Arkhangelsk region. It is also expected to open Trade Houses in Ukraine and Kazakhstan.