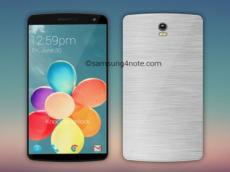 Fans are waiting anxiously for Samsung to launch the Galaxy Note 4. As always, there's a lot of speculation about the release date. Most agree that it will probably arrive sometime in September, but now one website states that the phablet will be arriving on Sept. 3.
The Galaxy Note 4 release date
The Korea Times reports that Samsung is planning to unveil the Galaxy Note 4 at an event on that date, which is just days before the IFA trade fair in Germany. The website cites an unnamed executive who is worth a supplier of displays that reportedly works with Samsung. The website claims that Samsung will be sending out invitations to that even "soon."
Of course Samsung is expected to push to put the Galaxy Note 4 out before the iPhone 6. The company undoubtedly wants to get it in the hands of consumers before Apple Inc. (NASDAQ:AAPL) even unveils the larger iPhone. Apple is rumored to be working on both a 4.7-inch and 5.5-inch iPhone to make them ready to launch this year. A 5.5-inch iPhone could put the success of the Galaxy Note 4 in serious jeopardy, so we're truly seeing a battle between Apple and Samsung that's even closer than ever this time around.
Expectations for the Galaxy Note 4
The Korea Times also updates expectations for the Galaxy Note 4, claiming that it will have an ultraviolet sensor to detect UV radiation in its S Health app. Such a sensor could help users avoid sunburn and / or skin cancer by reminding them that it is time to apply more sunscreen if they are spending a lot of time outside in the sunlight.
There's been plenty of debate about the device's size as well, and the report also indicates that the phablet will have a 5.7-inch OLED screen. In addition, the Korea Times claims that the Galaxy Note 4 will sport a metal casing. That seems to line up with earlier rumors that Samsung is planning to launch not one but two more smartphones before the end of this year.
Rumors surrounding that alleged device have been running rampant for quite some time.

/ValueWalk.Com/