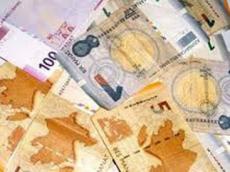 The Azerbaijani Central Bank (CBA) intends to support stability of the national currency rate in 2013, CBA chairman of board Elman Rustamov told media today.
"The exchange rate of the manat in Azerbaijan is stable and we intend to maintain its stability," Rustamov said.
In 2012, the central bank sterilised currency at the amount of $1.584 million to prevent significant strengthening of the rate of the manat and thereby neutralise the negative impact on the competitiveness of the non-oil sector.
The CBA controls the national currency rate to avoid excessive changing of the manat rate.
The rate is maintained at a stable level through additional injections into the foreign exchange market of the country. The average annual change in the Azerbaijani national currency rate compared to the U.S. dollar did not exceed one per cent over the past 15 years.
Last year, the manat rate compared to the U.S. dollar appreciated by 0.19 per cent. The stability of the national currency had a positive impact on the stability of the macroeconomic and financial sectors.
The manat rate has dropped by 0.025 per cent since early 2013, amounting to 0.7849 manat per $1 on Feb. 26.
The CBA focuses on inflationary processes and the preservation of the country's competitiveness while implementing the CBA exchange rate policy.
It is expected that inflation will remain at between five to six per cent in Azerbaijan in 2013.
Meanwhile, the CBA completely abandoned the use of a dual currency (dollar / euro) basket while determining the exchange rate of the manat. It has passed to a bilateral (manat / dollar) exchange rate targeting from January 10, 2011.
In 2012, the Central Bank continued its exchange rate policy within a bilateral targeting of the dollar / manat rate. Supply exceeded demand in the foreign exchange market of the country in terms of a large surplus in the country's balance of payments.
The currency basket has been used in Azerbaijan since March 2008. The CBA explained the refusal from this mechanism as being down to the intense volatility in major currencies and the goals of maintaining stability of the currency.
Macroeconomic analysis showed that bilateral targeting of the dollar /manat rate in the current terms is most clearly consistent with the CBA objectives and in particular with a view to influencing the rate of inflation. This mechanism also allows the CBA to pass to the method of a freely floating exchange rate in the future.
Many countries actively stimulate exports and economic growth by reducing the cost of the national currency. However, the Azerbaijani Central Bank thinks it wrong to connect these measures with the exchange rate policy. One can only make a contribution to these processes through the exchange rate policy. The CBA exchange rate policy in accordance with the structure of the country's economy aims at increasing exports and accelerating economic growth, the Central Bank said.


/Trend/