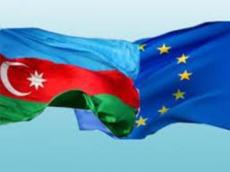 The European Azerbaijan Society (TEAS), in co-operation with Inese Vaidere, Latvian MEP, has organized a meeting in the European Parliament (EP) in Brussels, entitled Europe 2020: Focusing on the Energy Partnership with Azerbaijan.
A cross-party debate, the conference attracted members of the European Popular Party (EPP) group, the Socialists, The Alliance of Liberals and Democrats for Europe (ALDE) and the Greens.
Speakers included leading MEPs and other important stakeholders, including H.E. Fuad Isgandarov, Azerbaijani Ambassador to the European Union (EU), and Brendan Devlin, Advisor, Gas Policy, Directorate-General for Energy, European Commission (EC).
During the meeting, the latest developments in the South Caucasus energy sector were discussed and there was constructive dialogue between EP policy-makers. The participants discussed the evolution of European-Azerbaijani co-operation in the energy field, and outlined the opportunities for greater collaboration by 2020.
Roman Huna, Head, TEAS Belgium, said: "TEAS Belgium has established itself as a credible platform for information with regard to the South Caucasus. Therefore, we encourage the exchange of opinions in order to provide major stakeholders in the European institutions in Brussels with first-hand, reliable information on Azerbaijan, which is one of EU`s strategic partners."
Inese Vaidere MEP commented: "Energy-related issues have become extremely important for the EU. We need to act now, if we want to secure future energy supplies. What we discussed today is line with our intention of achieving European energy independence by 2020."
The EC was represented by Brendan Devlin, who outlined the existing European energy partnership with Azerbaijan, and the EC`s long-term objective of decarbonising the EU`s economy by 2050. He underlined the importance of Azerbaijan`s role as an investor in Europe, concluding: "We welcome Azerbaijan`s ability to innovate."
Azerbaijan has begun to play an integral role in ensuring European energy security. Ambassador Isgandarov reiterated this fact, saying: "Azerbaijan has always expressed its willingness to work with Europe in order to contribute towards its European security."



/AzerTAc/