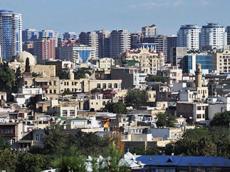 The Azerbaijani government plans to include measures to stimulate non-cash payments in the country in a package of proposals on amendments to tax laws, which will come into force in 2014.
According to sources in the government, discussions on these amendments have been being held since last year. They were planned to be implemented this year. However, due to the need to further refine these measures, it was decided to postpone their enactment until next year.
"In order to stimulate non-cash payments in the country, we intend to refine the proposed measures," the source said. "The preparation of proposals is in progress and we hope that the whole package of tax changes will be ready in March or April so that the amendments will be able to be submitted to Parliament by May 15. This will allow us to make adjustments until the end of the year. We plan to start applying these measures next year."
Given that increases in non-cash payments are one of the main sources of expansion of the tax base, Azerbaijan anticipates reaching the level of developed European countries in this regard very soon.
Various types of restrictions involving payments during a specified time period have been proposed along with ones on single transactions. For example, if during a month (or single transaction) a transaction amounts exceed 5,000 Manat, the amount greater than this number will be paid in non-cash form.
The level of restrictions is a main issue of debate as the majority of the population is not ready to work with POS-terminals. Accordingly, restrictions may in some way affect the population. For example, if a store has reached its monthly limit of 5,000 Manat, in order to not overstep it (to avoid paying taxes), it may refuse to sell something as necessary as bread.
Therefore, this approach is considered to be somewhat conservative. The best method is through the introduction of forced-restrictive measures regarding trading facilities and service areas and incentives for the population aimed at increasing interest in payments via bank transfer.
Solutions to problems that may arise during the application of the new rules for setting and using POS-terminals approved by the Cabinet of Ministers on October 4, 2012 were subjected to discussion at a meeting of the Central Bank, the Ministry of Taxes, commercial banks and processing organizations that was held during the end of last year.
According to the rules, the installation of POS-terminals in Baku, Ganja and Sumgait was to be completed in 2012 in Absheron, Mingachevir, Shirvan, Sheki, Lankaran, Yevlakh, Barda, Nakhchivan, Guba, Khachmaz, Masalli, Goychay, Shamakhi, Zagatala , Shamkir, Tovuz, Salyan, Sabirabad (excluding villages and settlements) but will now be completed in 2013. In other regional centers (excluding villages and settlements), work will be completed in 2014.
POS-terminals will be installed in all villages and towns of the country by the end of 2015.
Regardless of location, POS-terminals in all government agencies that receive taxes and stamp dues and fees, will be installed by the end of 2013.
Installation of POS-terminals is mandatory for all entities subject to VAT, taxpayers with an average monthly income exceeding 2,000 Manat per quarter, those performing the transport of passengers by cars belonging to legal entities and individuals and government agencies receiving taxes, fees and charges for rendered services.
Since registration of entities is required regardless of traffic and site of placement, POS-terminals should also be installed in specialized enterprises for the sale of furniture and cars, sports and recreation complexes, health care, leisure and entertainment facilities, hotels, event venues, gas stations, travel agencies and points of tickets sales for passengers of all modes of transport (air, rail, water and road transport).

/Trend/