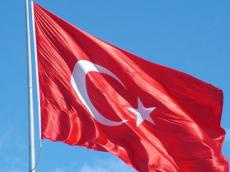 Ankara is grateful to Azerbaijan and Russia for the increase of gas supplies to Turkey, said Turkish Energy Minister Taner Yildiz. Azerbaijan and Russia increased gas supply to Turkey after the suspension of transportation of Iranian gas due to a powerful blast on a gas pipeline in the Turkish eastern province of Agri.
The gas flow through a pipeline carrying Iranian natural gas to Turkey was halted after the explosives planted by PKK terror organization were detonated at around 8:30 p.m. as patrolling Turkish soldiers were nearby. A fire broke out due to the explosion, but was subsequently extinguished after the flow of gas in the pipeline was cut off.
Russia's Gazprom declared that the gas supply to Turkey had been increased following an official demand from Turkey's state-run pipeline company BOTA?.
Turkey's state-run pipeline company BOTA? asked for the maximum increase in the supply of Russian gas via the "Blue Stream" pipeline and Azerbaijani gas via the Baku-Tbilisi-Erzurum gas pipeline, AzerTAc quotes Turkish TV channel NTV.
"We are grateful to Azerbaijan and Russia - they responded quickly to our request increasing the gas supply by 50 percent," said Yildiz. The night before the explosion on the pipeline, transporting gas from Iran to Turkey, injured 28 Turkish soldiers.
Eastern Turkish province Agr? Governor Mehmet Tekinarslan informed that wounded soldiers were immediately taken to hospital following the newest PKK attack. The injured Turkish military personnel were transferred from Ele?kirt Public Hospital to Agr? Public Hospital, Tekinarslan stated.
Only one soldier has been taken to a hospital in the neighboring Erzurum for third degree burns. "The injured were taken to nearby hospitals for treatment," the governor said, adding that they are reported to be in good condition.
/
AzerTAc
/