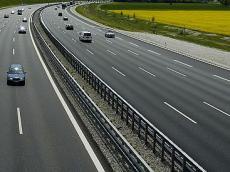 In nine months of 2012, total volume of investments in Azerbaijan's transport sector amounted to 1.7 billion manat.
Azerbaijani Transport Minister Ziya Mammadov made this statement at a meeting of the Cabinet of Ministers to discuss the results of the country`s socio-economic development in nine months of 2012, and outline further priorities, which was chaired by President Ilham Aliyev.
According to Mammadov, 114 million tons of cargo and 1.2 billion passengers were transported by Azerbaijan's transport sector in January-September 2012.
In particular, according to Mammadov, 16.7 million tons of the total volume of transported cargo accounted for rail, 9.3 million tons - water, while 87.9 million tons - road transport.
In January-September, the country's ports handled 9.1 million tons of various cargo, Mammadov said.
/
Trend
/